French Bulldogs are an amazing dog breed; friendly, sweet, gentle, and the most loving family dog!
They give so much to us, and we want to be sure that we're doing the best for them in return and that means giving them the best food.
Sometimes (in fact, very often) the best food definitely isn't the standard supermarket offerings.
With so many different types it can be hard to know where to start, especially as each dog has its own personal likes and dislikes, and French bulldogs can have sensitive skin and stomachs.
I've put together some food suggestions for your Frenchie – whether you want raw, dry or subscription-based food. I've also answered some commonly asked questions about what they can and can't eat and how much. If you don't have a Frenchie (or you have one with another breed), then here's our general article on the best dog food for sensitive stomachs.
This article was written with help from my cousin, who has two French bulldogs, Mavis and Peggy 🙂 Here they are, waiting for dinner…
Best UK Food For French Bulldogs With Allergies
Any French bulldog owner will know that their beloved pet has a sensitive stomach and they need to watch what they eat.
This dried food by James Wellbeloved gets rave reviews – it's a great dried food choice as it's hypoallergenic and made especially for those with digestive and skin issues, which are common in French bulldogs.
There are multiple flavour options and size options too if you just want to trial the food first.
The meat mixed with rice ensures that the food is gentle on your dog's sensitive stomach and contains enough soluble and insoluble fibres to support the digestive system.
The addition of yucca reduces the odour of stools, whilst Omega-3 fatty acid ensures a glossy and healthy coat and natural prebiotics encourage the growth of healthy bacteria within the gut.
One person said that after switching to this dried food, she noticed a change in her dog after the first meal and after a few days her dog's stools were firmer, with a reduced smell and a much happier dog!
Another person said that their pups can't get enough of it! They get excited every time they know that they're going to be fed and their coats are beautifully shiny, with no skin irritation.
Pros:
Suitable for Bulldog's sensitive stomachs
Hypoallergenic and no artificial ingredients
Multiple flavour combinations
Supports the digestive system with prebiotics
Lots of fibre
Omega-3 fatty acid
Added yucca to reduce stool odour
Small kibble size (around 12mm in diameter)
Cons:
The food itself has quite a strong smell
Best Raw Food For French Bulldogs in the UK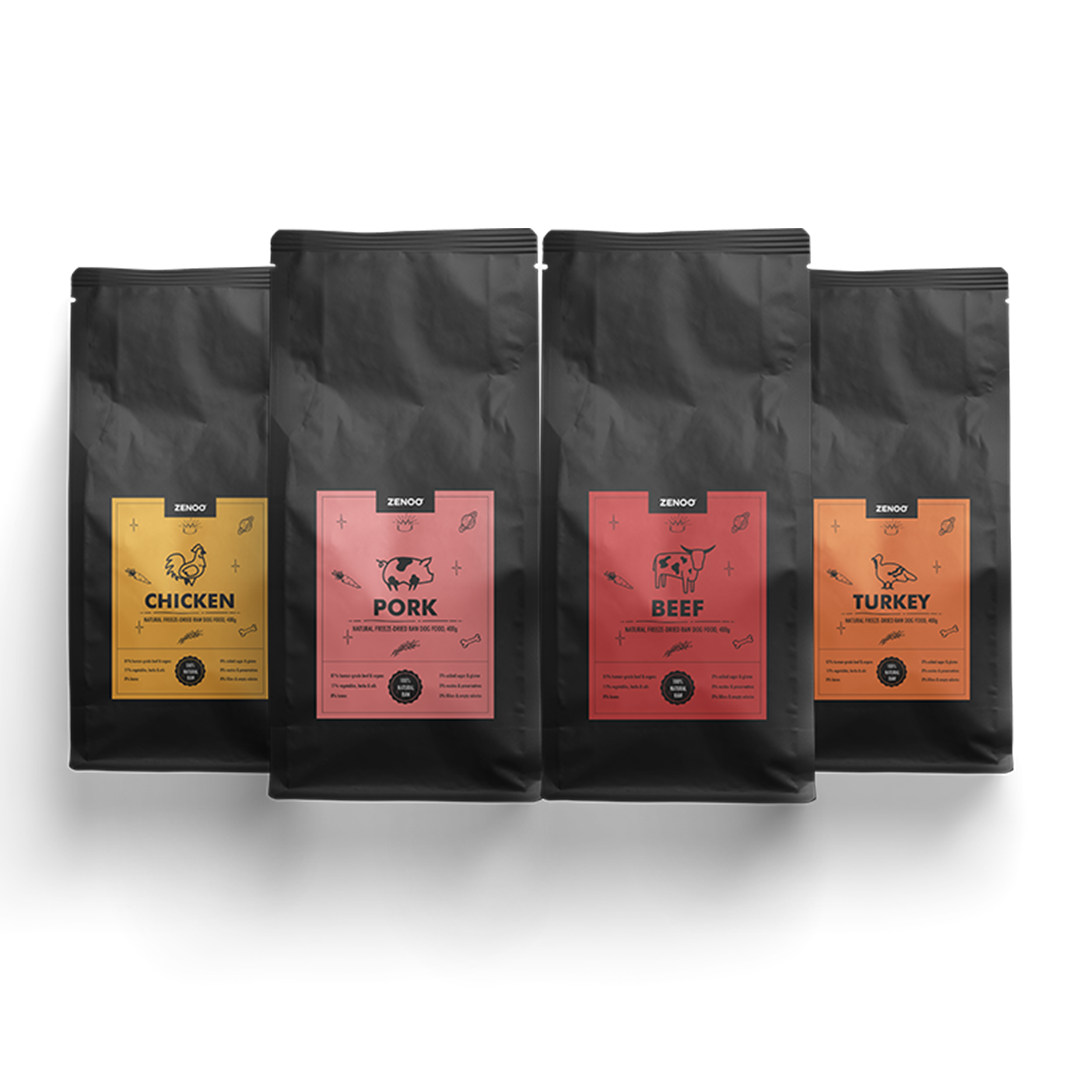 One of the main issues with raw dog food is that you also have to watch out for food recalls. Bacteria can thrive in raw food, but Zenoo have come up with a genius solution and have freeze-dried fresh raw quality ingredients, so it's raw food, without the risks. Freeze drying kills the bad bacteria, but saves natural enzymes.
It's said that feeding your bulldog raw food will encourage fresher breath, whiter teeth and a glossier coat, as well as improved digestion, a reduction in allergies and intolerances and improved weight management. Frenchie owners also find less farting a great benefit!
Some people are worried about feeding their bulldog dog raw food because they think it'll make the dog aggressive due to the nature of the food.
This isn't true – this kind of raw diet actually encourages a more stable temperament in your dog as they're not lacking in any nutrients!
Zenoo's food is human grade, and even though it's freeze-dried, you don't do anything special to prep it – just pour water on and wait 30 seconds, and it's ready. If your dog has food allergies or an upset stomach, it's definitely worth a try, as they've been getting great results.
Pros:
Freeze-dried to preserve nutrients
No need to keep it in separate fridge or freezer at home
Easy to travel with
Nutritionally formulated from whole foods and without fillers, etc.
Cons:
A higher price than regular dog food
Best Tailored Food For French Bulldogs
Tails – Specifically Tailored Dog Food (Including for French Bulldog Puppies)
(Check Current Prices)
I love this subscription service by Tails.com for puppies, as the food is specifically tailored to your dog.
You answer a few questions about your dog's breed, weight, age, etc, and are given a unique food recipe – so you can be assured that your pup is getting all the essential nutrients that it needs to grow healthily.
One of my favourite things about this puppy food is that it contains DHA omega-3, which many other foods don't.
This omega-3 supports bulldogs' mental development and helps with learning and socialising, decreasing the risk of behavioural issues later in life.
You also never have to worry about food running out and will avoid having to do a mad dash to the shops to pick up whatever you can find – possibly upsetting your dog's stomach.
Tails deliver your dog's food straight to your door every 2 weeks until your dog is 14 weeks old, then you get a monthly delivery.
If you find that the food isn't lasting long enough, or you have surplus at the end of the month then you can always change the delivery date to suit your needs.
One reviewer mentioned that their bulldog pup who suffered from stomach issues never really enjoyed his food, until they tried him on Tails. Now, his digestion is back to normal and he actually gets excited around mealtime because he enjoys his food so much!
Pros:
Food is specifically tailored to your dog, and the recipe changes as they age to support their needs
Supports mental development, immune and digestive system and provides energy for growth
Delivered straight to your door
Comes with a portion scoop
Pause, resume or cancel at any time
Cons:
Kibble is all a standard size
Best Dry Food for French Bulldogs in the UK
This Royal Canin dog food is made especially for bulldogs over the age of 12 months.
One of my favourite things about this particular food is that the dry kibble itself is ergonomically designed to ensure that your dog chews the food to encourage movement in the jaw, which is great as we all know that bulldogs have a brachycephalic jaw that can cause issues later in life.
This also means that your dog won't be able to eat as fast and swallow food whole (as bulldogs love to do) and give themselves indigestion.
The food is formulated to help reduce odour from stools and flatulence as it contains both fermentable and non-fermentable fibre and the only source of starch is that which naturally occurs in the rice.
It also helps your dog to maintain a healthy weight throughout its life and supports healthy skin and joints as they're getting ample amounts of nutrients.
Many people have said that this is the only food that doesn't give their bulldogs awful flatulence, and that they always switch back if they ever try anything else.
Pros:
Ergonomically designed kibble
Reduces odours
Naturally occuring starch and fibres
Helps to maintain a healthy weight
Supports healthy joints and skin
Encourages a soft, shiny coat and strong teeth
Cons:
Only comes in 12kg bag so can't trial the food before making a big purchase
How Much Should I Feed My French Bulldog?
Naturally, each size and breed of dog needs a different amount of food. The amount of food you should feed your bulldog depends on his or her age, too.
French bulldog puppies are still growing and will burn calories faster so need to be fed more regularly than adult dogs.
It's always best to feed your French bulldog 2 to 3 times a day and not all at once – they scoff their food down quickly and tend to overeat if you let them!
It's always best to check with your vet the type of food you're feeding your dog and how much is best for your individual Frenchie.
As a general guide, an average adult French bulldog should eat 128 g to 165g every 24 hours. However, this depends on:
How active they are
How old they are
How many treats they tend to have per day
Whether they are overweight or underweight to begin with
The calories in the food (wet, dry, mixed are all different)
Most pet food packaging has recommended serving sizes to help you.
You should always ensure that your bulldog has fresh water down to prevent them from becoming dehydrated and if you're switching between food types this should be done gradually to avoid stomach upset.
Ensure that your bulldog's food bowl isn't too high up, – since bulldogs have a shorter muzzle, they may struggle to eat if they have to raise their head up high.
Setting it lower down makes it easier for them to swallow their food.
What Human Foods Can French Bulldogs Eat?
It's always nice to treat your pet and give them some of the food we're eating, but if we're not educated giving them human food can prove to make them very ill, or even be fatal.
Certain human foods that bulldogs CAN eat are:
Meats
White and Brown Rice (cooked)
Dairy Products (in small quantities, and as long as your dog isn't lactose intolerant)
Fish
Some Vegetables – carrots, peas, broccoli and sweetcorn
Some Fruits – bananas, blueberries and deseeded watermelons
Natural and unsweetened Peanut Butter
Bulldog's have a sensitive digestive system and just as there are foods that they can eat, there are also foods that they can't:
Chocolate
Bacon
Raw Bread Dough
Some Fruits – Grapes, Avocados, Cherries, Tomatoes and Apple Cores
Some Vegetables – Mushrooms, Onions and Asparagus
Macadamia Nuts
If you're unsure about feeding a certain food to your dog, it's best to do plenty of research beforehand, or ask your vet.
We all want what's best for our dogs, so I hope this advice has helped you on your way to finding a food that they love and is good for them too.
Remember, if you're ever unsure of anything it's always best to check with a Vet beforehand – they'll be more than happy to help.